Mushroom Cultivation IV – Appropriate Technology for
Mushroom Growers 2016
This full colour hardcover manual of 520 pages was written by a number of experts and was presented at the ISMS Conference in Amsterdam 2016.
It provides essential information on how to grow mushrooms and gives details for the three mostcultivated mushrooms: Button mushroom, Oyster mushroom and Shiitake. Furthermore, cultivation practices for ten other mushrooms are explained, as well as marketing aspects, feasibility studies, mechanisation, climate control, farm management, pests and diseases and post harvest handling. High tech cultivation of White button mushrooms receives much attention.
Mushroom Cultivation IV consists of the complete 2003 third edition, updated with new chapters on Biological control of pests and diseases, Circular economy (separation and recyling casing soil, upcycling waste), Liquid spawn, Innovations in energy saving and sustainable energy production, Understanding the Mollier diagram, Supplementation in Agaricus cultivation and Combining greenhouses and mushroom cultivation. Two new appendices have been added: Quality control of compost with NIR and a list of suppliers to the industry.
In Germany, the UK, Spain and France the book can be ordered through Amazon. Other resellers:
USA: Unicorn Bags, www.unicornbag.com
Germany: Biomycotec
Austria: Tiroler Glückspilze https://gluckspilze.com/
Belgium: Mycelia
The Netherlands: Homegreen.
Delphy and Mycelia use the book for training courses on mushrooms.
Interested to use the book for training purposes and education? Please contact info@spore.nl for quotes.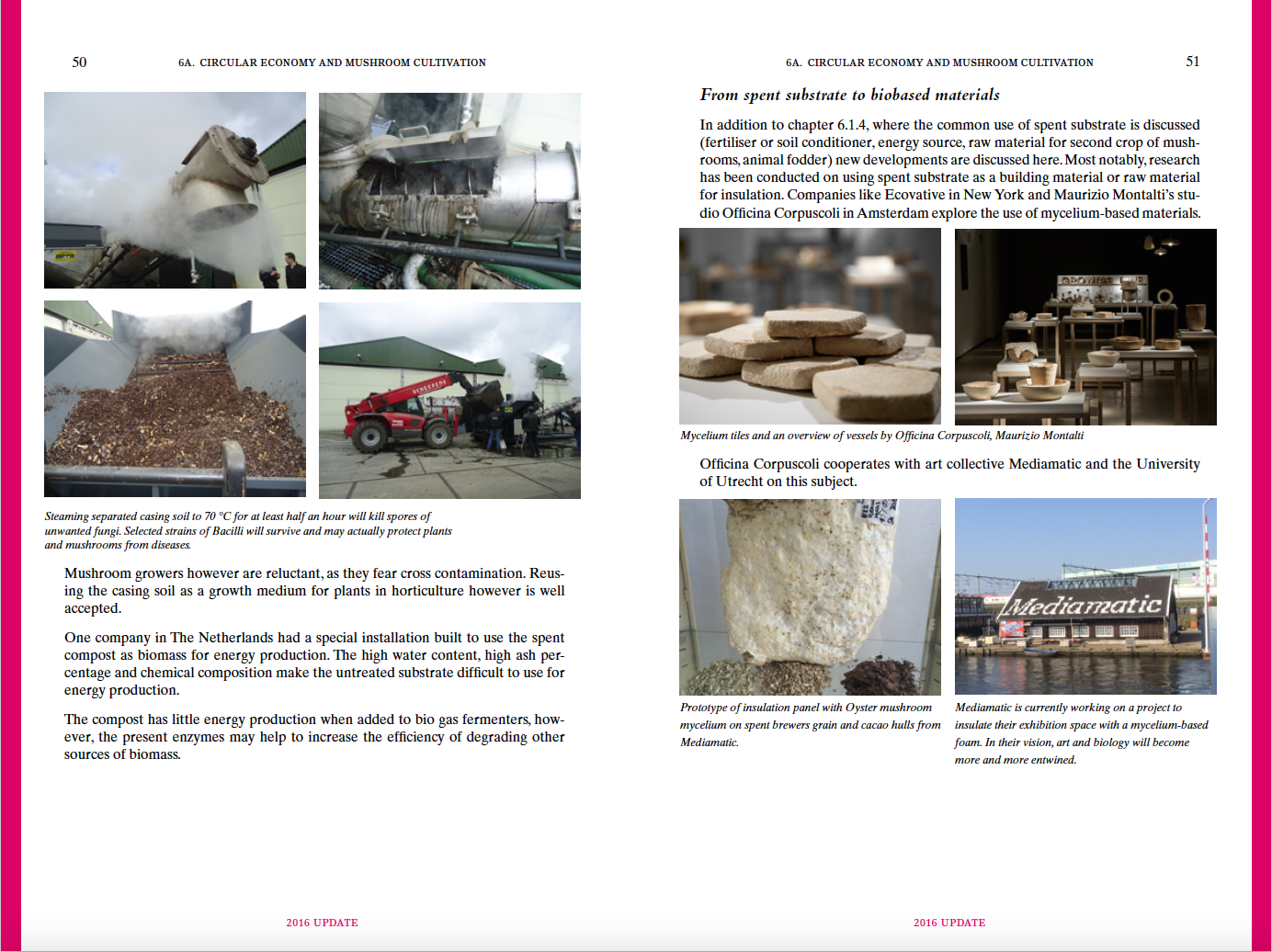 German / Deutsch
Während die ISMS Tagung in Amsterdam wurde das neue Buch Mushroom Cultivation IV. präsentiert.
Dieses Handbuch (auf Englisch) bietet auf 520 Seiten alle notwendige Kenntnisse, wie man gewerblich Pilze kultivieren kann.
Von den drei meist gezüchteten Pilzarten (Champignons, Shiitake und Austernpilze) sind viele Details offen gelegt. Dazu kommen Zuchtanleitungen für 10 andere Pilze, sowie allgemeine Aspekte wie Marketing, Machbarkeitsstudien, Mechanisierung, Klimakontrolle, Klimaanlagen, Farm-Management, Krankheiten/Schädlinge und Ernte-Nachbehandlung. Verschiedene Kapitel beschreiben die technisch hoch entwickelte holländische Weise um Champignons zu züchten.
Mushroom Cultivation IV enthält die komplette dritte Edition, erweitert mit neuen Kapiteln über biologische Kontrolle von Krankheiten und Schädlinge, Recycling, Wiederbenutzung von Deckerde und Kompost, Flüssigbrut, Innovationen im Bereich nachhaltige Energie, Mollierdiagramme, Near Infrared Analysen von Kompost und Substrat und wie man Gewächshauser mit Pilzanbau kombinieren kann. Eine Liste und Update von wichtigen Zulieferanten ist ebenfalls neu.
In Deutschland ist das Buch zu bestellen bei Amazon und bei Biomycotec, in Österreich bei Tiroler Glückspilze https://gluckspilze.com/
Die Belgische Brutfirma Mycelia und Delphy in den Niederlanden benuzten das Buch bei den Trainingen, weiterhin ist es in Holland zu bestellen bei Homegreen